Tickets are non-refundable, unless admission is held by The Elizabethan Gardens due to unforeseen events and/or closure due to wind forecasts above 35 mph.
Please note: Last tickets of the day are sold 1 hour before closing – last entry is 45 minutes before closing.
Horticulturists, nature lovers and history buffs will find something unique to see each season at The Elizabethan Gardens. Winter, spring, summer and fall contribute to the ever-changing beauty and tranquility of this unique garden, an oasis of color in a land of sea and sun.
MEMBERS AND CHILDREN AGES 2 AND UNDER ARE ADMITTED FOR FREE. TICKETS ARE NON-REFUNDABLE, UNLESS ADMISSION IS HELD BY THE ELIZABETHAN GARDENS DUE TO UNFORESEEN EVENTS AND/OR CLOSURE DUE TO WIND FORECASTS ABOVE 35 MPH.
Active duty service members, veterans and their immediate families receive a $1 discount off their ticket.
Please use Coupon Code: SERVICE at checkout, and be prepared to show Military ID when you check in at the Gardens.  Thank you for your service!
Seniors (ages 65 and over) receive a $1 discount off their ticket.
Use Coupon Code: SENIOR65 at checkout and be prepared to show ID when you check in at The Gardens.
Groups of 20+ can save $1.00 on individual admission.
Please contact our team for more information
Unused tickets will be considered a donation to The Elizabethan Gardens
a registered 501(c)3 charitable organization.
ENCHANTED GARDEN – Come find the 12 faeries!
After stealing a mysterious treasure from the Western Isles of Scotland, a pirate ship wrecked near Roanoke Island. The remaining crew hauled their water-logged treasure here. When they unlocked their chest, they released twelve ancient faeries. These adventurous sprites claimed their new world home and bound the pirates to roam with them as enchanted spirits for all time. Using a newly discovered map, young adventurers will have the key to locate these enchanted spirits where they reside in The Elizabethan Gardens. A mobile device enhances the experience. (General admission required.)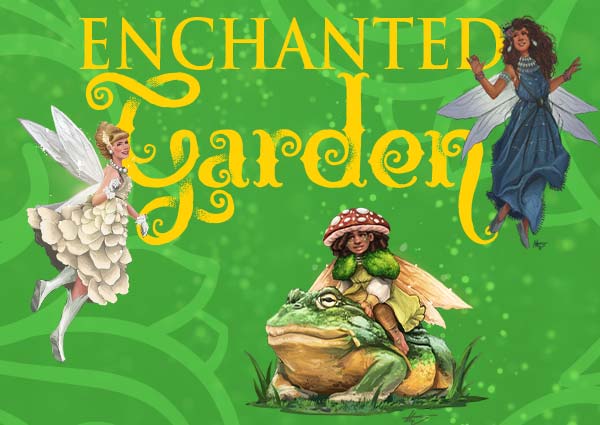 Looking for other events?