Colorful eggs and spring beauty  always delight event-goers at The Elizabethan Gardens annual Easter Eggstravaganza held each year the day before Easter from 9am to 2pm with thanks to volunteers and supporters from the community. 
"This year, as usual, it's volunteers that make it happen," said organizer and executive director Carl Curnutte. They stuff the eggs with candy and prize tickets. And the help and the support of local organizations and businesses allows us to provide this family-friendly event year after year."
And what could be more picture-perfect than spring blooms, green grass and Easter eggs on the Great Lawn for this popular event?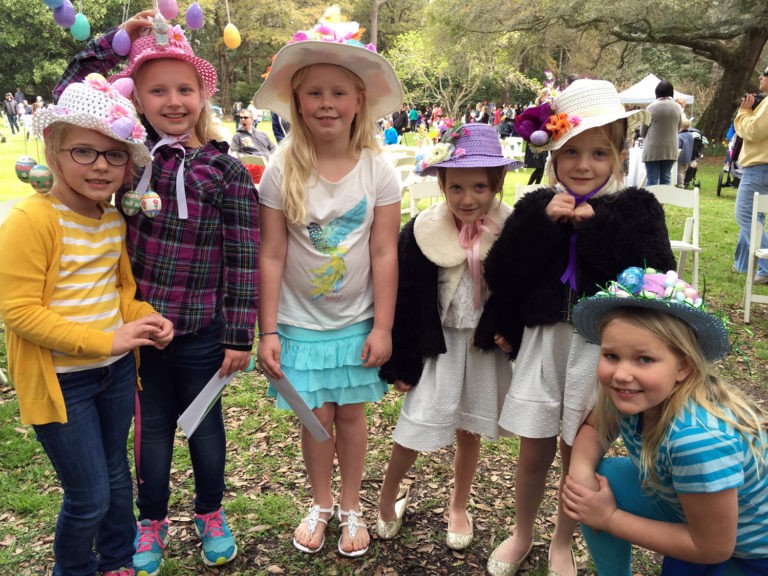 Guests are asked to pre-purchase timed-entry tickets for the event.
No tickets will be sold onsite.
And because entry is staggered throughout the day, it's the perfect chance to find your own spot on the lawn, enjoy the beautiful greenspace with playful music and maybe pack ahead to plan a family picnic too.
Vendors
Local vendors will be placed along the perimeter of the lawn along with prize tables and take-home craft projects.
How many prize eggs can you gather?
The scavenger-style hunt will be a one-way path  around the gardens where kids will collect eggs that will reveal either prizes or candy hidden inside them. Prizes include: books, toys, stuffed animals, coloring books, gift certificates, and candies – the  ones that are too large to be inside the eggs.
The John White Butterfly House will  be stocked full of butterflies just in time for the Eggstravaganza too! And as a special treat, the first 100 with pre-purchased tickets for the Eggstravaganza will be allowed to release a butterfly into the house!
But hold on to your Easter bonnet!
Even though guests will be visiting throughout the day from 9am to 2pm, there will still be an Easter Hat and Bonnet contest. Entry photos will be taken of hats and bonnets throughout the day. Winners will be announced at 2:30 p.m. and posted on the website and social media locations by the end of the day. Prize packages will be available for pick-up the following day.
The hats will be judged in two categories within each division, most creative and most beautiful. In addition to the two categories in each division, an overall best of event will be selected.
And grown-ups can hunt for savings too, at the Easter Egg Hunt Sale that happens in The Gardens Gift Shop during the Eggstravaganza.
Although Garden members are admitted free to Easter Eggstravaganza, all tickets must be purchased online for this event. No tickets will be sold at the door.
OUTER BANKS BUSINESSES
Come join the fun and have a chance to expose your business or non-profit to families on the Outer Banks.
The Gardens is looking for business and non-profits that would like to connect with the public. Come decorate a table in the Easter theme and share your message with over 1,000 guests. We will supply 10,000 Easter eggs for the businesses to give out for an egg scavenger hunt. Compete to win a free rental for 30 of The Elizabethan Gardens good for up to a year. Prize goes to the winner of the best Easter decorated table. Interested businesses should contact Carl Curnutte 252-473-3761, director@elizabethangardens.org